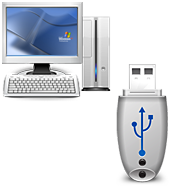 windows vista came with a few interestin things that i could mention, and having the feature of being able to use your pen/flash drive as a RAM to speed up your windows vista with
Readyboost
is just astonishing isn't it?
it's much cheaper compared to physically upgrading your RAM, especially if you're using laptops or DDR1 for example which im using, in fact pen drives are quite affordable nowadays.
on the other hand
eBoostr
speeds up your PC and improves application responsiveness by using flash memory and free RAM as an extra layer of performance-boosting cache for your PC. Use up to four inexpensive flash devices to speed up your system. Add more speed to your PC without any hardware upgrade!
the trial version will give you 4 hours of full functionality each time you boot up, and the full version is available at around $29
[download eBoostr]